Ministry of Employment and Social Affairs
Press Release
Minister for Employment and Social Affairs attends the 110th session of the International Labour Conference, Geneva
Tuesday 7th June 2022
The Minister for Employment and Social Affairs, Mrs Patricia Francourt, is in Geneva, Switzerland heading a tripartite delegation from Seychelles at the 110th session of the International Labour Conference (ILC), organized by the International Labour Organization (ILO) from 27th May to 12th June 2022.
Cognizant of challenges being faced by the world of work today as a result of COVID-19 pandemic and the unrest in eastern Europe, the conference has decided on an Agenda that have particular institutional importance for the current climate, including discussions on the inclusion of safe and healthy working conditions in ILO's framework, decent work and the social and solidarity economy as well as setting standards on quality apprenticeships.  For the safe and healthy working conditions, discussions started in 2019 noting its importance and recognizing it as a fundamental principle and right at work within the meaning of the ILO 1998 Declaration.  Whereas for decent work and the social and solidarity economy, it is the first comprehensive discussion that have ensued, given its role in generating decent work, productive employment and improved living standards for all.  The expected outcomes of the general discussion are to provide a universal definition, provide policy guidelines for Member State wishing to adopt, amongst others.  Where the setting of standards on quality apprenticeships is concerned, there are two principal reasons, firstly given its important role in addressing skills mismatch, improving employability and productivity.  Secondly, it is to ensure appropriate decent working conditions and protection for apprentices and trainees at the workplace.
For this year, the Director General of the ILO, Mr Guy Ryder, addressed the theme of least developed countries in his report to the Conference, where he spoke about 'crisis, structural transformation and the future of work.  The report places before the ILO's global tripartite constituency, i.e. government, workers and employers, pressing policy themes so that plenary discussions by Member States can happen for guidance to the ILO for future strategical intervention.  In this regard, in her address to the Conference today, Minister Francourt spoke about Seychelles use of migrant workers that come mostly from least developed countries (LDCs) to fill labour and skills shortages.  She informed of bilateral labour agreements that have been signed and earmarked to be signed with those countries for effective labour migration management.  She cautioned of the level of informality at this instance becoming more and more of a challenge requiring the ILO to exert greater effort to identify inclusive and sustainable solutions.   'Tackling informality means better protection of workers' rights and positive growth of the economy' said the Minister.  She continued by saying that like LDCs, small island states have unique characteristics which heighten its economic vulnerability.  She spoke about the need for diversification instead of relying mainly on tourism for job creation, a strategy that will build the country's resilience however it must be mindful that the workforce will need to be skilled for the jobs to be created.  She informed with pride of Seychelles' recovery post COVID-19 that she said is fairly positive and steady so far.  In conclusion she made a plea for the tripartite constituents to show ownership and commitment to address priority actions for a human-centred world of work.
The Conference is also hosting Head of States for the World of Work Summit to be held on Friday 10th June 2022 under the theme 'Tackling Multiple Global Crises: promoting human-centred recovery and resilience.  President Wavel Ramkalawan is due to address the Summit virtually on the day.
On the sideline of the conference Minister Francourt met with the ILO Regional Director for Africa, Mrs Cynthia Samuel-Olonjuwon whose office oversees ILO activities in Africa including Seychelles, to discuss future cooperation of mutual interest and also to report on current projects being undertaken with ILO's collaboration. The Minister expressed her appreciation of the ILO's support to the Seychelles which has assisted in achieving various objectives, notably the financial support that came at the crucial time in the aftermath of the COVID-19 pandemic that have assisted a number of jobseekers to be re-skilled in order to secure a job that is on demand.  Also discussed was the Inclusion Agenda that the Regional Director said is important and that she felt encouraged to learn is very much on track to allow the participation of all citizens in our society, no matter their economic or physical and mental conditions, particularly people living with disabilities, the young mothers and persons recovering from substance abuse.  She pledged the full support of the ILO and encouraged Seychelles to continue to move the cause of island States particularly our advocacy role with the blue economy.   
The Minister also held discussions with her homologue Ministers from other States participating in the Conference, sharing experiences and thoughts on the recent medical and diplomatic crisis that continue to adversely affect the world of work and the economy.  Being an island state with tourism as their main income similar to Seychelles, the Minister learned that Sao Tome and Principe are experiencing similar challenges as us, particularly the decline in tourism whereby they have had to look at diversifying their economy in other areas such as Agriculture.  Whereas for Cabo Verde the pandemic has affected them gravely causing a serious rise in their unemployment rate whereby they have had to re-skill jobseekers.
Minister Francourt was amongst eight Ministers chosen to participate in a campaign promoting key messages relating to social justice being run by the ILO on different social media platforms such as Facebook, Twitter.
The other members of the Seychelles delegation attending the ILO Conference are Mr Jules Baker Principal Secretary Employment Department, Ms Veronique Bresson, Executive Director and representatives of the Workers' Union Mr Antoine Robinson and Seychelles Employers Mr Donald Monnaie. A copy of Minister Francourt's address to the Conference and photos are attached.
END
Building resilience, responsibility and preparedness to join and stay in employment
The government of Seychelles remains engaged in its efforts to ensure that the youths receive the necessary support and assistance not only to secure employment, but to also remain in employment in order to become self-dependent and able to become productive citizens of society.
It was Minister for Employment and Social Affairs Patricia Francourt who made the declaration yesterday during the certificate presentation ceremony to a group of participants who attended re-skilling and skills development programme during the Covid-19 pandemic in 2020 and 2021.
The programme was hosted by the Ministry of Employment and Social Affairs, in collaboration with several partners including the Seychelles Maritime Safety Authority (SMSA), The Guy Morel Institute (TGMI), the Seychelles Institute of Technology (SIT), the Seychelles Tourism Academy (STA) and the Seychelles Institute of Distance and Open Learning (Sidol), with the financial support of the International Labour Organisation (ILO).
The training was conducted to impart skills to young people and build their competencies to ease their entry into jobs during the Covid-19 crisis.
Training institutions provided formal training to the youths on the different employment programmes in various areas in demand on the local labour market, while some participants were up-skilled through short courses to improve their employability and also soft skills sessions to build on their resilience and get them ready to enter the world of work amid the pandemic.
The certificate presentation ceremony held at the STORY Hotel and Resorts at Beau Vallon was attended by director for the ILO Country Office for Seychelles Coffi Agossou, programme officer for the ILO Country Office for Seychelles Clara Ramaromanana, principal secretary for employment Jules Baker among other guests.
Minister Francourt noted that the training opportunities came at an opportune time when there were economic uncertainties locally and worldwide that could have persistently impacted the labour market.
She said we can all attest to the many social ills that many of our young people are exposed to nowadays, all of which have an adverse effect on education and employment and as a result impacting on our country's economy.
Therefore, she added, more than ever before, we need to work together to educate and empower them with necessary technical and vocational skills and competencies to build resilience, responsibility, and preparedness to join and remain in employment.
Minister Francourt also advised the participants to set their goals and to use it as a compass to lead them in the right direction.
Addressing the training participants, Mr Agossousaid the programme is in line with many frameworks, including the Agenda 2030 which is a plan of action for people, planet and prosperity. It also seeks to strengthen universal peace in larger freedom recognising that eradicating poverty in all its forms and dimensions, including extreme poverty, is the greatest global challenge and an indispensable requirement for sustainable development.
He said the programme is also in line with the Agenda 2063 which is Africa's development blueprint to achieve inclusive and sustainable socio-economic development over a 50-year period.
Mr Agossou also described it as tangible proof of the importance given by the ILO to human-centred approach.
Swivan konsern ki travayer Seselwa dan plizyer landrwa travay, enkli IOT, pe sibir move tretman e zot per pour anmenn zot konsern devan pangar zot ava ganny plis viktimize, Minis responsab pour Lanplwa ek Zafer Sosyal in dir ki son minister i reste angaze pour ki drwa e byennet tou travayer i ganny respekte.
Minis Patricia Francourt in osi dir dan Lasanble yer letan i ti pe reponn en kestyon notis prive lo sa size par dirizan lopozisyon Sebastien Pillay ki son minister i asir travayer tou konfidansyalite e lasirans ki letan zot anmenn zot ka devan ki i pou ganny adrese ziska en solisyon i ganny vwar.
Minis Francourt in dir ki son ministeri ranforsi de lalwa prensipal ki gouvern kondisyon travay e sa i Lalwa Lanplwa e Lalwa lo Lasante ek Sekirite dan Landrwa Travay. I'n osi dir ki i annan plizyer mekanizm ki neseser anplas pour asir proteksyon tou travayer dan Sesel kot i konsern sa de lalwa.
Seksyon Labour Monitoring and Compliance i asire ki tou bann kondisyon travay i an konformite avek sa de lalwa e sa i ganny fer atraver diferan vizit dan bann landrwa travay.
Minis Francourt i dir ki deteksyon bann move kondisyon travay i atraver sa bann vizit lenspeksyon ki zofisye son minister zot fer dan bann diferan landrwa travay e kot travayer ki annan okenn konsern zot met a latansyon sa bann zofisye.
I'n fer resorti ki en lot fason pour detekte bann move kondisyon travay i atraver bann rapor ki travayer zot menm zot fer e sa i dan trwa diferan fason:
- bann travayer ki raport direkteman kot minister;
- bann travayer ki telefonnen;
- bann ki fer konplent formel atraver en let.
Minis i dir ki dan tou ka, apre ki son minister in resevwar en rapor, lenvestigasyon i ganny fer pour vwar si sa bann konplent i fonde ou pa e swivan sa en rapor i ganny fer pour kominik bann rekonmandasyon neseser avek anplwayer konsernen.
Pour lannen 2021 bann zofisye in fer 751 vizit dan bann landrwa travay e son minister in resevwar 124 konplent sorti kot bann travayer.
Travayer i osi toultan kapab anrezistre en rapor pour eksprim zot mekontantman vizavi okenn desizyon ki zot anplwayer i pran konsernan zot kondisyon travay.
Pour lannen 2021 minister in anrezistre 371 rapor parey.
Dan lenstans kot lalwa ki gouvern kondisyon travay pa ganny respekte, departman lanplwa i annan manda pour fer prosedir pour prosekisyon atraver Tribinal Lanplwa. Pour lannen 2021, 22 ka in ganny prosekite.
"I osi enportan pour fer resorti ki i annan lakonpannyen ki gouvernen par lalwa Seychelles International Trade Zone (SITZ) Employment Regulations 1997 e ki tonb dan manda Financial Services Authority (FSA) pour ranforsi kondisyon travay dan sa sekter.
"Sa lalwa li i fer provizyon pour ki si okenn travayer dan sa sekter zot annan en konplent zot kapab anreziste kot biro FSA. Dan ka IOT, dapre kominikasyon ki mon minister in resevwar, FSA pa'n resevwar okenn konplent ansa ki konsern kondisyon travay bann travayer sa lakonpannyen me plito konplent konsernan aksyon disipliner e terminasyon lanplwa ki dapre travayer pa zistifye. Ankor dapre lenformasyon ki minister in resevwar, de ka in pas atraver prosedir rapel e negosiasyon pour en settlement i an progre," Minis Francourt in fer resorti.
Minis Francourt in osi enform bann manm Lasanble ki lemoman ki son minister i resevwar konplent oubyen rapor lo kondisyon travay pour bann travayer IOT oubyen lezot lakonpannyen ki tonb dan SITZ, zot toultan pran kontakt avek FSA e demande ki i annan lenvestigasyon konzwent ansanm avek zofisye minister pour kapab rod solisyon pour sa bann konplent. I'n dir ki si konplent i ganny fer kot FSA an premye lye e dan ka kot travayer i bezwen lasistans minister, Minis Francourt i dir bann zofisye son minister i toultan pare pour asiste.
"Pour lannen 2021 nou'n fer 10 vizit dan sa sekter SITZ pour verifye kondisyon lasante ek sekirite dan travay e sa sif i konpri en lenvestigasyon," Minis Francourt in osi dir.
IOT lo son kote i anploy 505 travayer lokal e 1375 travayer etranze. Pour lannen 2021, Departman Lanplwa in resevwar 501 laplikasyon pour travayer etranze sorti kot IOT.
Ladan ti annan 109 nouvo pos, 399 demann pour renouvle bann pozisyon. Pour premye kar sa lannen 2022, Minis Francourt i dir zot in resevwar 208 laplikasyon pour bann pozisyon travay sorti kot IOT ki anploy en melanz nasyonalite parey Kenyen, Malgas, Endyen, Filipino osi byen ki Ganeen. Minis in fer resorti avek Lasanble ki bann sif egzakt lo kantite travayer i kapab konfirmen par sa lakonpannyen oubyen departman Limigrasyon.
Touzour an sa ki konsern lenvestigasyon dan bann ka kot travayer pe ganny maltrete, Minis Francourt in repete ki en lenvestigasyon i ganny fer dan tou ka kot en travayer i enform minister ki Lalwa Lanplwa e Lalwa lo Lasante ek Sekirite dan Landrwa Travay pa pe ganny respekte.
"Pandan sa dernyen lannen mon minister in osi ranforsi partenarya avek nou bann diferan stakeholders ki osi enkli bann diferan Linyon Travayer atraver bann konplent ki ariv kot minister," Minis Francourt in dir.
I'n osi ensiste ki son minister i reste angaze pour ki drwa e byennet tou travayer i ganny respekte. Kot i konsern bann travayer IOT, Minis Francourt i dir son minister i kontiny son partenarya avek FSA e toultan ki konplent i vin a latansyon minister sa i ava ganny adrese atraver striktir anplas.
Swivan konsern ki bann anplwaye i per pour vin devan pangar apre zot ava ganny targete e viktimize plis, MNA parti minoriter Paul Ernesta ti anvi konnen kwa ki minister pe fer pour ankouraz sa bann travayer e donn zot sa konfyans neseser pour vin devan e osi ki sa bann lorganizasyon i ganny dil avek parey i fodre.
Lo son kote MNA parti mazoriter Andy Labonte ti anvi minis i konfirmen si vre IOT in arete pran travayer Seselwa part-time ki i dir ti ava ede redwir lakantite travayer etranze, konsern ki IOT in redwir son prodiksyon swivan konsern ki napa ase lavant ki fer ki bokou travayer Seselwa in ganny fer aret travay, konplent sorti kot bann linyon e ki pouvwar ki zot annan.
Lo sa bann pwen Minis Francourt ti fer resorti ki son minister napa okenn kontrol lo sa ki IOT i deside ansa ki konsern si IOT i deside arete fer dimoun travay part-time ou non me si i annan dimoun ki santi zot afekte par en tel desizyon zot bezwen vin devan e fer konnen zot sitiasyon. An sa ki konsern bann linyon travayer, Minis Francourt in dir ki i annan 2 linyon ki son minister i travay pros avek e zot travay ansanm lo bann ka ki vin devan. Minis i dir ki parey bann linyon son minister osi i travay pour byennet tou travayer e zot ankouraz tou linyon pour vin devan e anmenn bann ka konsernan bann travayer.
Lo son kote sekreter prensipal pour lanplwa Jules Baker in asir bann manm Lasanble ki anba lalwa SITZ i annan en striktir anplas ki fer provizyon pour ki okenn travayer ki annan en konsern ou grievance i kapab anrezistre avek FSA me si i pa dakor avek desizyon ki FSA i donnen i annan tou drwa fer rapel avek minis finans ki responsab pour SITZ.
Ansa ki konsern armonizasyon sa de lalwa, PS Baker in fer resorti ki sa i an progre e ki tre byento en desizyon i ava ganny pran lo sa size.
Lo kote IOT, PS i dir kot i konsern kota, gouvernman ek minister lanplwa in toultan met lanfaz pour ki otan Seselwa posib i antre dan sa lakonpannyen pour travay e minis avek tou bann zofisye lanplwa in asiz avek bann responsab IOT pour met anplas pli bon mekanizm pour ankouraz plis Seselwa e minister i okouran tou bann demann ki IOT i annan.
Swivan en kestyon par MNA lopozisyon Churchill Gill lo size si minister i satisfe avek lokalizasyon bann pos kot IOT, Minis Francourt ti fer resorti ki avan son minister i aprouv en pos zot fer sir ki zot satisfe ki vreman napa en Seselwa ki kapab pran sa bann pozisyon.
Lakantite pos ki'n ganny lokalize pandan sa dernyen lannen
Swivan lezot kestyon bann manm ki Minis Francourt ti reponn ti enn par MNA pour Plaisance Richard Labrosse ki ti anvi konnen konbyen pos ki'n ganny lokalize pandan sa dernyen lannen.
Minis Francourt ti fer resorti ki malgre bokou defi, son minister in fer e pe kontinyen fer bokou zefor pour met otan dimoun posib dan en lanplwa permanan.
Minis in dir ki anba progranm lokalizasyon zot in reisi lokaliz 160 pozisyon depi 2017 ziska Avril 2022.
I dir ki dan pei i annan travay pour tou Seselwa ki anvi travay. I dir ki menm avek pandemi Covid-19 boner 2020 e an 2021 son minister in anrezistre 2477 dimoun ki ti pe rod en lanplwa me ti termin lannen 2021 avek selman 491 dimoun ki ti napa en lanplwa.
"Sa i montre rezilta bokou zefor e devouman bann travayer departman lanplwa e nou konstate ki i annan plizyer pozisyon ki'n ganny lokalize e nou kapab dir fyerman ki en pozisyon ki ti pe al pour en etranze in vin pour en Seselwa akoz nou ti egzize ki drwa travay i pour Seselwa an premye. An 2021 nou ti anrezistre plis ki 5 mil plas travay e nou ti plas plis ki 1800 dimoun dan en lanplwa e i annan lespas pour ankor plis Seselwa pour travay.
Nou ti osi refiz apepre 3 mil demann pour anploy travayer etranze akoz ti annan Seselwa pour pran sa bann pozisyon. Progranm 'My First Job' ki target bann zenn in osi ede pour lokaliz bann pozisyon e mazorite anplwayer i satisfe avek rezilta sa bann kandida. Mon oule remersye tou sa bann anplwayer e demann lezot pour zwenn nou dan sa demars. Progranm skills development ek progranm reskilling ki ofer formasyon e on-the-job training pour donn sans dimoun ki pe rod en travay antre dan en lanplwa in osi ede pour lokaliz bann pozisyon e pour pei redwir demann pour travayer etranze malgre ki demann pour lanplwa i reste o," Minis Francourt in fer resorti.
Defi prensipal ki Minis Francourt i dir son minister i rankontre an sa ki konsern lokalizasyon i ki i en prosesis ki pran bokou letan e i difisil e i annan letan kot sa Seselwa i kite travay dan sa landrwa avan ki sa pos i ganny lokalize oubyen dimoun ki pe rod en lanplwa i pran letan pour swazir en travay.
Parmi bann sekter ki annan plis demann pour travayer etranze an 2021 i reste sekter konstriksyon avek 7440 pozisyon, sekter tourism avek 3371 pozisyon e komers avek 1485 pozisyon.
Sa bann sif i osi montre ki pei pou toultan bezwen travayer etranze me ki minister pe entansifye son zefor pour kontinyen plas Seselwa dan lanplwa e redwir depandans lo travayer etranze.
Minis in lans lapel pour tou Seselwa ki pa ankor antre dan en lanplwa pour vin devan e pran en lanplwa.
Fer rediksyon lapovrete en size priyoriter son departman avan lannen 2023
Minis Francourt in dir sa i en responsabilite partaze ant tou bann minister ek departman gouvernman osi byen ki tou dimoun dan bann fanmir, bann endividyel dan nou sosyete pour empower zot prop lekor.
"Nou salye tou bann fanmir e bann endividi ki pe travay tre dir pour pran swen avek bezwen zot lakour e nou osi ankouraz nou tou pour partisip dan transformasyon nou sosyete atraver nou travay dir. Dapre dernyen letid pour etabli en nivo lapovrete Sesel an 2018, poverty head count rate ti 25%. Me sa letid ti montre ki bann lezot fakter i devret ganny konsidere ler pe etabli nivo lapovrete. Parmi sa bann fakter i nivo ledikasyon, travay dan sekter enformel ek lanplwa. Gouverman pe pran sa lapros pour asire ki sa bann fakter i pli byen targete e ki solisyon pour lapovrete i pran plis dimansyon sosyo-ekonomik e non pa zis larzan siplemanter.
Lo kote minister, Minis Francourt in dir ki zot in deza anbark lo en progranm reskilling ki redonn bann zenn e osi bann adikt en dezyenm sans pour antre dan lemonn travay. Gouvernman in osi revwar e ogmant lasistans ki i donn bann ki vreman bezwen e sa legzerzis pou kontinyen avek plis letid pour determin bann fason pli soutenab a lonterm prenan kont ki mank lanplwa pa en defi Sesel me plito enn ki annan pour fer avek levolisyon dan nivo saler.
Anplis ki sa Minis Francourt i dir bann demars in deza konmanse ansanm avek minister responsab lanvironnman ek lenerzi pour asiste bann fanmir atraver PUC rebate. STC lo son kote pe deza aplik RRP ki pe osi anmenn en soulazman pour bann fanmir. SPTC osi lo son kote pa'n ogmant pri bis pour lemoman e tou zefor pe ganny fer pour soutenir sa polisi ziska en revizyon i byen neseser.
"Baze lo tousala Lasanble i devret pran ankont ki lezot departman gouverman pe deza zwe zot rol dan sa demars pour redwir lapovrete dan pei e sa i bezwen plis kordinasyon vi ki lapovrete pa zis en defi pour departman sosyal. Anplis ki sa nou kontinyen ankouraz nou popilasyon pour sezi bann loportinite ledikasyon e travay, pour depans dan en fason responsab, pour zer byen zot bidze e sa i ava montre nou langazman pour konbat lapovrete," minis i dir.
Marie-Anne Lepathy
Dorothy Padayachy from the policy planning and research section is the longest serving staff of the employment department with 42 years of service and President Wavel Ramkalawan was the guest of honour during a ceremony on Friday to reward and recognise her achievements and that of her other colleagues.
Geralda Bastienne who has clocked 34 years, Maryvonne Francis 33 years and Lindy Desnousse 32 years are the other three employees with more than 30 years of service.
Other long serving awardees were Simone Malbrook 30 years, Monique Cassime 28 years, Susan Volcère 26 years, Michelline Bamboche 26 years, Lydia André 24 years, Liana Adrienne 22 years, Cinthia Gamatis 22 years, Riordan Plows 20 years, Odile Barbé 18 years and Angelique Lesperance 16 years.
Mrs Cassime has already retired. 
All the awardees were presented with their awards by President Ramkalawan and Minister for Employment and Social Affairs Patricia Francourt.
The ceremony held at the Ephelia Resort was part of the Ministry of Employment and Social Affairs' activities for Labour Day and hosted under the them 'Celebrate Workers'.
Also present at the event were the principal secretary for employment Jules Baker and other key officials from the ministry.  
President Ramkalawan congratulated all the employees for their devotion, commitment to their work which have made them reach so many years of achievements which have in turn led to the milestone success of the employment department. He thanked them for making the effort to take opportunities that were offered to them and have helped them advance in life. He reminded them that it's only by taking opportunities on offer that we will advance and further earn something in life.
President Ramkalawan also wished them a happy Labour Day and thanked them for guiding and placing the unemployed in jobs. He added that, through the ministry, he will continue to offer them his full support.
Speaking of the achievements and successes of the department earlier in her opening remarks, Minister Francourt commended the staff for succeeding to end 2021 with a little over 400 active job seekers on the database after the different stimulus programmes by government, such as the Unemployment Relief Schemes (URS), coming to an end and employers were not recruiting in view of economic uncertainty in the midst of Covid-19, which resulted in the department registering a record high 2,477 jobseekers.
She said new programmes came along to complement the traditional ones, such as the very successful 'My First Job' scheme that came in 2016 and whereby 3,000 graduates from the professional centres have benefited since then through government assistance with payment of a portion of their salaries as fully-fledged workers or young entrepreneurs or by simply facilitating their quick access to employment so that they can also start to contribute to the development of the country, and the localisation programme which has permitted 150  talented and capable young men and women among 400 odd identified to be trained and take key positions in their respective organisations where they are employed. 
"Our strategic plan which will be reviewed this year has as one of its priorities to enhance staff welfare and performance. We plan to continue providing the necessary support to you as we believe these are essential in order to deliver a good level of service and it is also a way to show that we value the efforts being put in," Minister Francourt said.
Addressing the long serving awardees, Minister Francourt said they deserve the special ceremony that bears proof of their devotion and passion towards the department.
"You are true examples for your colleagues who are surely learning from your wisdom and getting inspired to follow in your footsteps. Thank you for your tenacity and for putting Seychelles first," said Minister Francourt who thanked the staff for their commitment and perseverance to move the department forward despite constraints.
During the ceremony, there were various testimonies from Nahed Bonne, Ibrahim Dodin, Tracy Mathiot and Joel Zialor, all participants on the various programmes of the department and from long serving staff Simone Malbrook as well as hotel manageress Doreen Valentin from Double Tree by Hilton Seychelles – Allamanda Resort & Spa which hosted some of the young workers on their journey and work experiences.
President Ramkalawan was also presented with a token of appreciation from the staff for supporting them. The guests were entertained by Isham Rath and his sister Isis Rath. The employment department employs 101 staff.  
Patrick Joubert
En gran group dimoun ki pe rod en plas travay ti desann kot Sant Konferans Enternasyonal pandan lazournenyer pour vin gete si ti napa en pozisyon ki ti dan zot kalib e ki enteres zot parmi sa 700 plas travay ki ti pe ganny ofer.
Sa ti atraver en gran lafwar travay ki departman lanplwa dan Minister Lanplwa e Zafer Sosyal ti'n organize.
Sa lafwar travay i vin 2-an apre enn dernyen ki sa departman ti organize depi bann restriksyon Covid-19 ti vin anfors.
Yer ti annan antou 17 letablisman, lakonpannyen e lorganizasyon ki ti prezan kot sa lafwa pour donn dimoun ki ti pe rod en travay plis detay lo tou sa bann pozisyon ki annan dan zot lorganizasyon.
Apart sa bann letabisman prezan ti osi annan bann kyosk departman lanplwa ki ti pe anrezistre bann ki ti pe rod en louvraz lo zot lalis lanplwa e osi fer CV bann ki ti pe al anrezistre pour en lanplwa parmi sa 17 letablisman ki ti enkli bann lo nivo touristik, defans, ek servis parmi lezot. Sa departman ti pe osi anrezistre bann ki ti anvi sanz karyer dan bann progranm 're-skilling e 'up-skilling'.
Sa ki ti remarkab kot sa lafwar travay yer ti sa kantite zenn ki ti'n desann pour vin swa rod en lanplwa oubyen anrezistre pour ganny en lanplwa dan bann lezot letablisman ki ti lo lalis departman lanplwa, me ki pa ti prezan dan sa lafwar.
Aparaman ti annan en gran group dimoun ki ti'n fer laliny deor kot sasant menm avan ki sa lafwar ti konmanse 9er bomaten.
Minis pour Lanplwa e Zafer Sosyal, Madanm Patricia Francourt, akonpannyen par bann o zofisye dan son minister ti osi la pour donn zot sipor. Apre en vizit dan bann kyosk kot i ti enterakte avek bann dimoun, Minis Francourt ti dir ki i ti vreman enpresyonnen pour tande ki ti annan sa gran group dimoun ki ti'n vini byen avan louvertir sa lafwar ki montre ki lapel departman lanplwa pour fer dimoun konpran ki i annan travay e pour pran sa bann plas travay, pe byen marse.
«Mon kontan vwar lakantite zenn. En ler nou dir bann zenn pa oule travay me ozordi in montre nou pour dir sa i diferan prezan akoz zot in vini,»Minis ti dir.
Anfezan referans a serten statistik, Minis Francourt ti dir ki ler ou konpar sa 700 plas travay ki sa lafwar ti pe ofer kont sa 800 dimoun ki'n anrezistre kot biro lanplwa pour rod en travay, i montre ki i annan travay dan pei. I ti azoute ki depi Zanvye ziska Avril sa lannen, departman lanplwa in anrezistre plis ki 2500 plas travay. I ti dir ki sa latmosfer leksitasyon ki in vwar kot sa lafwar i al anver tou bann ki'n met sa zefor pour met bann zenn ek bann dimoun ki matir dan en lanplwa.
Tou bann responsab bann kyosk ki ti koz avek Seychelles NATIONti dir ki zot in byen satisfe avek deroulman sa lafwar kot bokou dimoun, sirtou bann zenn, in fer laplikasyon pour en travay dan zot letablisman.
Christina Benoiton ki annan leksperyans dan laviasyon e ki ti pe rod en travay, i annan plis ki en mwan, ti dir ki i satisfe avek sa lafwar me anvi ki napa bokou letablisman prezan, sa lafwar ti'n devret ganny etale pour donn sans dimoun vwar ki lezot swa bann lezot letablisman e lorganizasyon i annan pour ofer e osi pour donn bann lezot dimoun ki pour en rezon ou en lot pa'n ganny sans vini yer.
«Parfwa ou fer laplikasyon dan 'email' ou pa ganny en larepons. Me la koumsa ou ranpli en form e ou konnen ki i pe al kot zot akoz ou annan laprev ki ou'n donn zot ou form,» i ti dir.
Dapre direkter zeneral promosyon lanplwadan sa departman, Letimie Dookley, vi ki landrwa i enpe sere, zot pa'n kapab fer li lo sa gran lanpler parey avan akoz bann restriksyon Covid-19 ek bann SOPs ki an plas. I ti fer remarke ki menm sa, zot vremans atisfe avek kantite dimounki'n vin kot sa lafwar apre 2-an ki i pa'n ganny fer. In demann bann dimoun pour pa souzestim zot abilite pour en pozisyon menm si zot napa en sertifika.
«Ou kapab napa sa kalifikasyon me si ou annan sa skil i osi konte. Dan plas vini e apre ale san koz avek sa bann lorganizasyon lo bann skil ou annan menm si ou napa sertifika, ou pe mank en gran loportinite kot ou kapab ganny pran pour sa louvraz ki ou anvi,» Madanm Dookley ti dir.
Sa lafwar travay ti termin 3er apremidi.
Sa bann portre ki akonpanny sa lartik ti ganny tire par Thomas Meriton, fotografer Seychelles NATION.
'A positive mindset and attitude for a productive Seychelles' is the chosen theme to mark this year's Productivity Awareness Week which kicked off yesterday with a discussion, awareness and education session on productivity for chief executives, managers from government and other institutions.
The two-day session entitled 'Mindset for positive transformation' and held at the STC conference room was launched by Minister for Employment and Social Affairs, Patricia Francourt.
She stated when addressing everyone in attendance that through the chosen theme for the productivity week this year "our country is once again calling on all of us workers, employers and stakeholders incorporated to rise to the challenge by adopting a more positive attitude to and towards work by taking our responsibility to give the best of ourselves, for the further development of our country."
"Now is the time for workers and employers to invest in higher education, training and human resource development, as they become more relevant during difficult times. They are the major drivers of sustainable growth and they are inter-linked with the creation of a productive workforce. I therefore seize this occasion to encourage all workers and jobseekers to appreciate the value of learning and to be determined in acquiring further skills and know-how that will lead to higher income and a better standard of living," said Minister Francourt.
She further stated that the working session is "a significant occasion, as the reason we are here, is to accentuate the importance of improving workplace productivity nationally during these challenging times and beyond. It is encouraging to see the strong representation from the public sector especially as government has embarked on adopting results based management in the delivery of its services and attainment of its targets. It is also an opportunity for the participants to be educated on productivity, to improve their leadership and management style and to make a difference in their workplace," Minister Francourt pointed out.
"The issues affecting productivity are a concern for everyone so we should all join forces as this is our future," concluded Minister Francourt.
Chief secretary of the Public Service Bureau, Shella Mohideen led the training session during which delegates followed a master class about mindset and its importance for effective public sector reforms, mindset for institutional effectiveness, change in management models internalisation of principles and values for change, key strategies to foster change in public officers' mindset, accountability for change of mindset and leaders as change agents.
Ms Mohideen noted that the master class is important as there is a strong link between leadership and public sector outcomes.
"A strong leadership influences public service effectiveness and efficiency and public innovation to improve public services and rebuild/enhance trust in public institutions. This master class will also allow leaders/managers to reflect on their practices, and it should help them become better change agents for better service delivery," Mrs Mohideen stressed.
She further pointed out that at the end of the session, the senior leaders should be able to show understanding of what is mindset and its impact on public sector reforms, discuss the predominant mindset in government employees, critically analyse the existing factors that have led to this predominant mindset amongst other related matters.
Throughout the Productivity Awareness Week, the Ministry of Employment and Social Affairs will also organise different educational programmes to promote good productivity practices as a change in mindset, a change of attitude and a change in work ethos are essential to improve   productivity.
Also present at the launch ceremony were Minister for Foreign Affairs and Tourism Sylvestre Radegonde, Minister for Lands and Housing Billy Rangasamy, Minister for Investment, Entrepreneurship and Industry Devika Vidot, Speaker of the National Assembly Roger Mancienne, representatives of the Seychelles Federation of Workers Union, Seychelles Labour Union and the Seychelles Chamber of Commerce and Industry.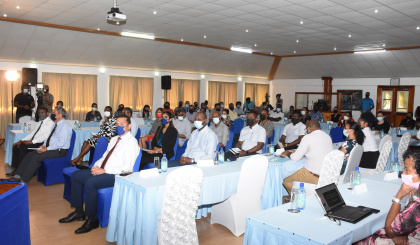 Vidya Gappy
In 2021, the employment department approved 14,478 (85% out of a total applications) posts to be occupied by non-Seychellois workers compared to 8,565 (81% out of total applications) in 2020 and 10,522 (76%) in 2019.
The number of job seekers was 2,477 and under the 'My First Job Scheme', 447 people were employed representing 72% of the applicants.
These figures were shared yesterday by Employment and Social Affairs Minister Patricia Francourt, employment principal secretary Jules Baker, executive director Veronique Bresson and chief policy analyst Susan Morel during a presentation on the labour market performance for the year 2021 held at the International Conference Centre Seychelles (ICCS). The statistics are for the period January to December 2021.
"Last year when we presented the statistics, we were at the peak of Covid-19 and the programmes we had in place to assist businesses had come to an end. The employment department had worked tirelessly putting in huge efforts to ensure that people who have registered got an opportunity for a job. The work was intensified as we knew it was paramount for us to put our people in jobs as best as we could. We had launched the upskilling and reskilling programmes and jobseekers were encouraged to join these programmes. We are very pleased to report that many young adults took the opportunity to join the programmes. This year we are doing the same and more people are coming to register," summarised Minister Francourt.
"The job market as we saw in the statistics did very well in 2021 compared to 2020. In 2020, redundancies were higher and businesses were not recruiting. So, we know for sure, as the government opened our borders in March 2021, it gave confidence to the market and businesses. We are happy to report that there were more vacancies and people were able to get a job. We worked in partnership with the agencies/companies that had more than 10 vacancies so that we were able to advertise the vacant posts twice a week on television," explained Minister Francourt.
As for Ms Morel, she gave a thorough presentation of the report and noted that in 2021, out of the 2,477 jobseekers, 43% had a post-secondary qualification and 52% chose occupations in group services and sales.
"We were able to facilitate 1,837 job placements and 58% were females. In the bracket of 15-24 years, there were 995 job seekers and for the age bracket 25-44 years there were 1,353.
Ms Morel noted that in 2021, they registered more job seekers due to redundancies and also because of companies not employing people. Many had to follow the skills development programme and 209 job seekers went through the programme in 2021 compared to 477 in 2020 and 389 in 2019.
In total, 5,449 vacancies were registered in 2021 with 2,801 in accommodation and food service activities; 1,074 in construction; 596 in manufacturing and the rest in 17 other categories.
PS Baker talked about the various programmes the department of employment did, such as 'My First Job Scheme' which has been a huge success.
"Although the figures of 2021 showed many youths looking for a job, in 2022 from January to now, we have registered 723 jobseekers," said PS Baker.
Regarding the conditions of work in some organisations/businesses which keep complaining that there are no Seychellois workers, Minister Francourt and PS Baker said they are aware of that and noted this is why many of the gainful occupation permit (GOP) requests were denied.
"Even though there was a pandemic, 731 inspections were made to different organisations and 129 cases were prosecuted and they were proven guilty. Since the beginning of this year, we have brought 22 cases before the court. Many employers do not want to come before the ministry as they know the consequences," shared PS Baker.
Non-Seychellois employees in Seychelles
Ms Morel noted that non-Seychellois applied for 17,061 posts in 2021 compared to 10,591 in 2020 and 13,914 pre-pandemic period in 2019.
The industries representing the highest number of posts applied in 2021 were construction (7,440); accommodation and food service activities (3,371); wholesale and retail trade; repair of motor vehicles and motorcycles (1,485) and manufacturing (1,022).
Ms Morel shared that 49% of posts applied were new compared to 51% renewal posts and this is a different pattern compared to the last two years where new positions comprised a higher percentage of posts for non-Seychellois workers.  The employment department approved 14,478 (85% out of total applications) posts to be occupied by non-Seychellois workers compared to 8,565 (81% out of the total applications) in 2020 and 10,522 (76%) in 2019.
To conclude, the employment department noted that the labour market improved from the effects of the Covid-19 pandemic by end of 2021, despite discontinuation of employment programmes and financial support to businesses in early 2021.
There are still signs of underlying issues, however, which persist such as skills mismatch and business high reliance on foreign workers.  The trend for the first quarter of 2022 shows similar positive path with high labour demand albeit persisting effects of the pandemic on jobseekers and ongoing uncertainty with the Russia/Ukraine conflict, although the impact is yet to be felt
Minister Francourt said that for 2022, we have to stay vigilant and she urged all Seychellois jobseekers to take a job and stay in jobs and secure the jobs for the betterment of Seychelles. Also, discussions are ongoing with the Ministry of Education and other ministries to see how to better prepare our people to take up some of the demands of the market.
Vidya Gappy
It is a known fact that many people have moved on to lead successful lives and take up careers they enjoy after rehabilitation, while, in addition, many companies today are open to hiring candidates with previous drug or alcohol issues.
With the goal of promoting that culture, the employment department, along with two of its partners, namely the Guy Morel Institute (TGMI) and the division of substance abuse prevention treatment and rehabilitation (DSAPTR) has started a 'Prepare for work programme' – soft skills for reskilling and upskilling for former substance abusers.
Upskilling is the process of learning new skills or of teaching workers new skills, while reskilling is the process of learning new skills so you can do a different job, or of training people to do a different job.
The first group of 11 former substance abusers received their certificates on Tuesday afternoon after successfully completing the five-day training which aims at transforming their mindsets by exploring three main topics ‒ including personal leadership, mind-set change and vision and career change.
The newly-acquired skills will also enable them to better navigate the world and also to make use of it in their personal life.
The certificate presentation ceremony which took place at the TGMI at Ma Joie was attended by the Minister of Employment and Social Affairs Patricia Francourt, principal secretary for health Dr Bernard Valentin, acting executive director of TGMI Patrick Bristol, among other guests.
Addressing the participants, Minister Francourt, firstly, commended them for the effort and first step taken in their journey to employment despite their struggle, based on their substance abuse history.
She explained that their moves show that they are willing to adjust to normal life again while re-entering the workforce can help them as individuals to recover in so many ways, since a new job gives a person in recovery a newfound sense of purpose and responsibility.
She explained to them that even if life during and after recovery may seem like an uphill battle at times, in the end, a healthy, happy and substance-free life will be well worth the journey.
Minister Francourt further added that since the beginning of the training programme, she had been in regular contact with the facilitators and staff, keeping a close eye on the progress and that she was delighted each time to receive a positive comment.
She noted that based on the ongoing transformation, Seychelles as a country is in need, more than ever of all its healthy citizens who are determined and willing to play a part in its development.
The employment and social affairs minister pledged her support for the group and reassured them that she has great hope in them, similar to other partners, like local companies that believe in giving second chances, and are willing to take them on board.
She also urged others who have fell victims to substance addiction and are willing to make a positive change in their lives to come forward and join the programme.
On behalf of the Ministry of Health, precisely the DSAPTR, Dr Valentin noted that the most remarkable thing that he got from the participants is that during the week, they have learned to respect themselves and other people, and also how to properly behave in everyday life.
All these, he said, are very important criteria which lead to an exemplary and respectful citizen within the society, and by learning these, the participants are on the good path towards recovery and re-adjustment within the society, especially integrating the world of work.
By Roland Duval