82 Re-skilled young people receive certificate, join the world of work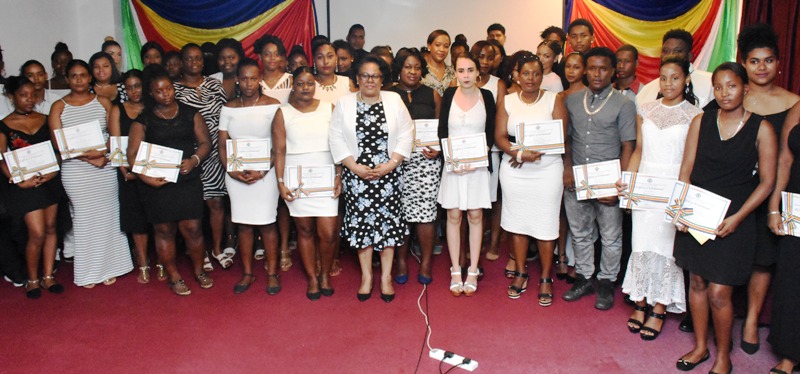 82 young people aged between 18 and 30 or more have received their certificates after having successfully completed
training in different fields under the department of employment's Skills Development Programme (SDP) .
The 7th employment training scheme certificate presentation ceremony took place at the ICCS on Friday afternoon in the presence of the Minister for Employment, Immigration and Civil Status Myriam Telemaque, key officials from the same ministry, representatives of different organisations which welcome the young people for training, their parents, among other guests.
It was a moving ceremony punctuated by testimonies of different young people who shared their journey through the training programme, highlighting the difficulties they encountered in their effort to secure employment while having no skills.
"It was not easy at all after I dropped out one year into the bar and restaurant course I was following at the Seychelles Tourism Academy," 19-year-old Shamira Padayachy remarked.
She cited difficulties while on attachment as the reason for dropping out.
She encouraged other young people facing the same predicament not to feel discouraged by any challenges in life but to seize the opportunity to retrain in another field and move on in life. As for her, she retrained under the SDP and has become an office assistant.
32-year-old Manette Jeanne, originally from La Digue, also shared her story, noting that she started as a carer but after a very difficult journey enrolled on the programme and has now gained the skills in hairdressing and hoping to return to her native island to open her own salon.
18-year-old Dyan Daro was not keen on following any training at any professional centre after completing his secondary education at English River in spite of all the encouragement to do so.
"I just wanted to work as a cook so I enrolled on the programme and was attached to the Fisherman's Cove Hotel and I am very happy that today I am employed at the hotel as a commie chef and I do pastry, as well as the hot and cold dishes," he said proudly.
When she addressed the group of young people, their parents and other guests, Letimie Dookley, the director general for employment promotion, congratulated the group for having successfully completed their on-the-job training.
She noted that from January 2017 to date a total of 355 young people were placed on the training programme and from that 82 have successfully completed their training and have secured employment. 98 trainees unfortunately dropped out but a total of 175 are still following the programme.
"These are satisfactory results noting that each placement differs in duration hence it would be imperative to establish how far the participants progress in their respective jobs and on the labour market in general after completing the programme," Ms Dookley remarked.
"I am certain that the journey leading to the special occasion today has been marked with a lot of sacrifices and also dedication and we are proud of you and your achievements," stated Ms Dookley.
She also acknowledged the commitment and patience of the different mentors who have worked alongside the young people.
"This ceremony testifies that all your hard work has brought great results and I encourage you to continue to support our youth," Ms Dookley said.
"I am certain that the journey leading to the special occasion today has been marked with a lot of sacrifices and also dedication and we are proud of you and your achievements," stated Ms Dookley.
During Friday's ceremony different organisations who opened their doors to receive the young people for work attachment were also recognised and they were presented with a certificate by Minister Telemaque.
They were Scenic Landscaping, Planning Authority, IOT, Pillay R Group, Maven Pty LTD, International School, Registration Dept., SPTC, Ascent Projects, and Coco de Mer Hotel.
Ms Dookley has called on other organisations to come forward and give a helping hand as well as to continue encouraging our youth to train to join the labour market.
Complements of Seychelles NATION.